Dear Blog Friends -
As my loving and ever-so-diplomatic husband recently pointed out I have been a "crap blogger" lately. My sincerest apologizes for leaving you without any adorable pictures of my son stimulating, hilarious, or philosophical blog posts for days upon end. I really have no excuse. Except that I'v been blogging since 2007 and a break sounded nice. That and the fact that I am (embarrassingly) obsessed with playing solitaire on my iphone and it's monopolizing most of my spare moments. (

If you hadn't given up on my blog weeks ago I am sure you have now.

)
However, if you're willing to look past my affinity for computerized geriatric card games you'll be excited to hear that you are going to get a whole bunch of me next week. Because next week is FALL FASHION WEEK.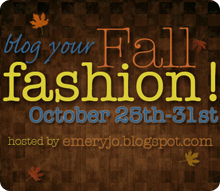 I am SO stinkin' excited about fall fashion week. I just hope temperatures don't jump to the 70s so I can actually wear sweaters, and boots, and scarves, and all those things that make fall fashion great.
Actually, this season I want to challenge myself to wear some of those cute accessories that I buy and then tuck in the back of my closet to attract dust bunnies. Be looking for hats, tights, high heels, skirts and such. I hope you'll join in the fun!