I'm back. It's been a sunshine filled week; one of those that makes it difficult to stay inside and sit at the computer. But good old summer fog has arrived and it's gloomy doomy outside.
Ignore my last post. Although I have some great blogs churning around in my head. Titles such as "My Mother was Correct: Nerd Today - Hot Tomorrow" and "Doesn't It Feel Good That All The Popular Kids Are Now Fat", but they'll just have to wait. I'm not motivated. I would rather drone on about my present little life. Sorry for the teaser (I'm sure your actually breathing a sigh of relief - no more awkward teen pics).
*********
It was just Landon and I all weekend. Since RJ was gone we make the weekend "special". Out to Starbucks in the morning, a trip to the mall, Mom cut off L's mullet, visiting the neighbor's baby ducks, tiny tot playdates, frozen yogurt, all the good stuff.
**********
While at Starbucks we sat next to a trio of middle-aged women and overheard the following:
"I'm texting so often these days, ever since my daughter taught me how, that I'm thinking about getting one of those smart phones. What are they called again? Oh yeah, a Blueberry. I'm going to splurge and get myself a Blueberry."
**********
There is a new Vespa dealership in Thousand Oaks. Their slogan: "Don't Be A Gas-Hole."
**********
Butter went to her first obedience class yesterday. She is officially the most hyper puppy at PetsMart Puppy School. However, she is also the most obedient. (Go Me!)
Landon had swim school on Friday. He is officially the loudest screamer at Ventura Country Swim Lessons. (Humiliated Me!)
**********
I'm currently addicted to this show: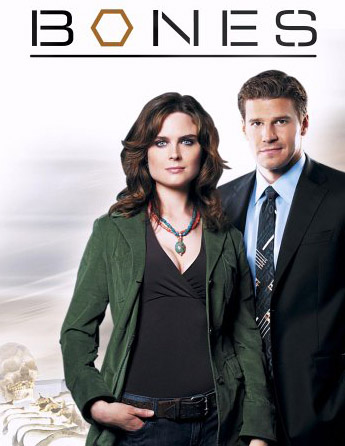 Thanks Jessica for the suggestion. I've been dreaming about skeletons I've watched so many episodes.
**********
That's us. How was your weekend?